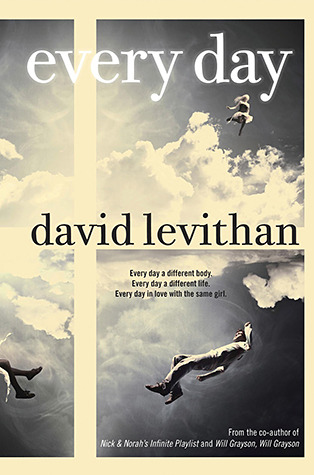 Goodreads Description: Every day a different body. Every day a different life. Every day in love with the same girl.

dThere's never any warning about where it will be or who it will be. A has made peace with that, even established guidelines by which to live: Never get too attached. Avoid being noticed. Do not interfere.
It's all fine until the morning that A wakes up in the body of Justin and meets Justin's girlfriend, Rhiannon. From that moment, the rules by which A has been living no longer apply. Because finally A has found someone he wants to be with—day in, day out, day after day
My Rating: 3 out of 5 Stars
My Review:  I'm rating this a static 3 because I really do not know what to think about it. It's a VERY interesting storyline a little bit like David Levithan + Andrea Cremer's "Invisible"(click for my review on it) . But the pace was a little bit too slow for me, throughout half the book I just wanted answers. And answers I did not get. At least not until the last quarter of the book. But I still wouldn't classify those as answers.
Let me give you an example of what I'm trying to portray. I took a picture. The picture (or book) is super blurry and pixelated. As I fix this picture(or go through the book) it becomes less pixelated and more clear. Slowly but surely. Now about less than a quarter way until the end of the book is the climax of the clearness. Throughout the rest of the book I get no more answers. The end of the book has left you hanging. The picture is still blurry!!
As I was reading other people's reviews I noticed that mostly everyone liked the book as a standalone. I, however, would love to know who the "others" are and what happens to A. I want to know what happens with Rhiannon! I want a happy ending.. or not. I don't care. I just want an ending.. an acceptable one.