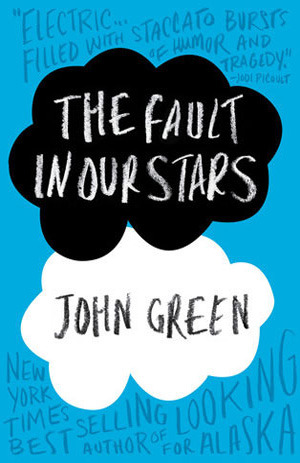 Goodreads Review: Despite the tumor-shrinking medical miracle that has bought her a few years, Hazel has never been anything but terminal, her final chapter inscribed upon diagnosis. But when a gorgeous plot twist named Augustus Waters suddenly appears at Cancer Kid Support Group, Hazel's story is about to be completely rewritten.
My Rating: 5out of 5 Stars
My Review:
Oh my god! This book made me cry… TWICE!
So much emotion… Such a big plot twist…
Now what am I supposed to do with my life?
Sure I have nothing to live for anymore. But on the plus side, I found great quotes! This is my new favorite book. And I have a bad feeling they're going to screw up the movie.
Ok now that I'm calm (as calm as I can be post-mental breakdown) I'll explain how I am half hipster.. And my boyfriend informed me that I am also a hypocrite too. Since I hate hipsters.. So, my sister is was the queen of good books back in her reading days. Every book that she would get from the library, was always a good book. And she picked this one up (long before anyone even liked it!) and like usual, it was a great book. She recommended it to me. Being me, I only read a couple chapters of it (and this was back when the book just came out). When I found out that the book was going to be turned into a movie I figured, hey! Now is a great time to finish the book!
So yes. Ladies and gentleman. I am a hipster. I have fallen into the hipster trap! I read a book that EVERYBODY likes. And I didn't get the chance to read it before everybody else. *tear*
I lied about being calm.. It's impossible to be calm when you just finished reading such a heartfelt and deep book. I can never be calm! I love Augustus Waters! And I love Hazel Grace Lancaster even more!
Ok I'm done.